View Other Content
Search Articles
Recent Articles
0
How Fast Does Lime Affect pH?
Every year as deer season approaches, you hear the panicked voices of procrastinators asking, "How long does it take for lime to affect the pH in my food plots?" Reading between the lines, you know they probably didn't pull a soil sample and have it tested months ago when they should have, so they couldn't have ordered and applied the recommended amount of agricultural lime (aglime) to adjust the pH as needed.
We know it takes a little time for aglime to raise the pH of acidic soils closer to the optimal range of around 6.5. Unfortunately, there's no fixed schedule that can tell you how long, because the speed of pH change varies with several factors, including: quality of the aglime, fineness of the aglime particles, soil type, soil moisture, whether you disked the lime in or left it on the surface, and other variables. So, the same aglime applied to two food plots in different soil types under different conditions will likely affect pH at different speeds. The problem is, even aglime isn't the same everywhere. Sources and standards are different in every state. There are some complicated formulas and chemical properties you can study to attempt to calculate the variable speeds, but I'm not a chemist. I need to keep it simple.
Procrastinators who failed to test their soil and order bulk aglime ahead of time often turn to pelletized lime because they've heard it affects pH more quickly. It does, but before we go there, let's establish some facts.
When you get the results of a soil test, it includes a recommended amount of limestone to be applied per acre to adjust pH based on the crop you indicated for the test. This is referring to bulk aglime, which is usually ordered from a local farm supply outlet. Bulk aglime is coarsely ground, and it contains moisture. It feels like damp sand when you grab a handful (see the photo in the gallery below). You cannot spread bulk aglime with a spin-cast or gravity-fed spreader like you use to distribute fertilizer and seed because the aglime won't flow through the mechanism. It must be spread with a belt-fed spreader like on an agricultural fertilizer truck or trailer, or with a specialized drop spreader. The easiest option is usually to have the local supplier deliver and apply the lime for you with their spreader truck. Or, you can borrow a spreader trailer (already filled with the lime you ordered from the distributor) and pull the spreader with a truck or tractor.
This is the ideal approach for several reasons.
First, it's cost-efficient. Bulk aglime is the cheapest, most effective way to adjust the pH of food plots, provided your food plots are not so remote that you can't reach them with spreading equipment.
Second, the effect is long lasting. As a general rule, the finer the lime is ground, the faster it affects pH but the sooner that effect wears off. Coarsely ground bulk aglime is slower to affect pH, but the effect lasts longer, in some cases years.
How long? There's only one way to be sure in every case: Test the soil again. Soil-testing is cheap, easy, and it allows you to apply fertilizer and lime with precision instead of guessing. When you guess, you either under- or over-fertilize, which means you are either wasting money on fertilizer that isn't needed or wasting money on seed that won't perform to its potential.
How far in advance of planting a food plot should you apply aglime? Again, it depends on all those variables I mentioned earlier, but
in general it's a good idea to apply aglime two to three months ahead of planting.
Now we come to the procrastinator.
"Pelletized" lime is seen in garden centers and is usually sold as "lawn lime" by the 40-lb. bag. This type of lime is more finely ground than bulk aglime, but after being finely ground it has been aggregated into clumps or pellets. Unlike aglime, these pellets will easily flow through a gravity-fed spreader, like a lawn-and-garden push spreader, towed ATV spreader, or the PTO-driven cyclone spreader on a tractor. Pelletized, bagged lime is ideal for use in remote food plots out of reach of large equipment.
Because it's finely ground, pelletized lime affects pH faster, so it can also work for procrastinators. The disadvantages are:
• It's expensive compared to bulk aglime. You buy pelletized lime by the 40-lb. bag instead of by the ton, and at average per-bag prices this ends up being very costly on large food plots. Lime application rates are usually by the ton per acre.
• It's far more labor-intensive than bulk aglime. You're going to be loading, transporting and handling all those individual bags of pelletized lime, then opening and pouring each one into your spreader just to get started.
• It's tough to know how much to apply. Even if you pull a last-minute soil test, the lab's recommendations are not calculated for pelletized lime from the local hardware store. It may take more tons/acre of pelletized lime to get the job done, or it may take less. That depends on the quality of pelletized lime available locally and other factors.
• Finally, the effect won't last. Because it is more finely ground, pelletized lime takes effect more quickly but also fades faster. A new soil test will tell you how fast.
In the final analysis,
pelletized lime beats no lime at all
when you are planting a large food plot in acidic soils with less than optimal pH, but
it is a stop-gap measure that should not replace regular soil-testing and applications of bulk aglime as needed.
Next time around, get started sooner. Have your soil tested by a professional lab. Then, find a nearby supplier of bulk aglime (your county's agricultural extension agent can help you locate one). Check with the supplier to order the recommended amount of bulk aglime and have it delivered and applied two to three months ahead of your next planting.
Pelletized lime is more finely ground than most aglime, but it is bound into pellets or clumps that will work in gravity-fed spreaders. Because it is sold in bags, it is handy for use in remote food plots that can't be reached with heavy equipment.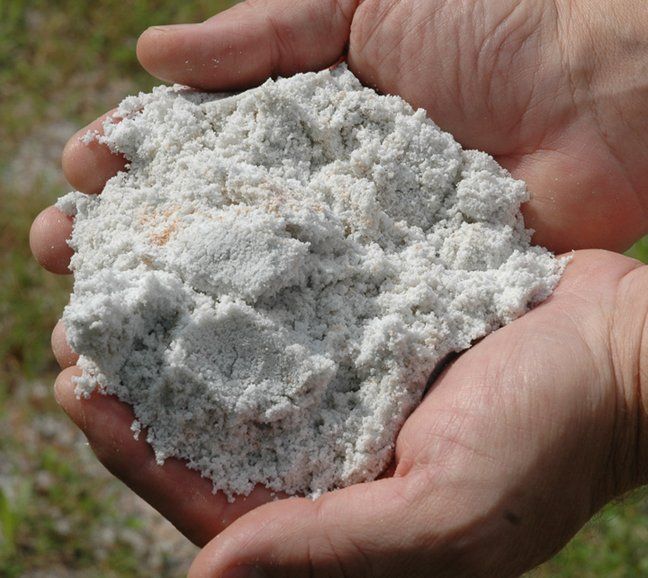 Bulk aglime feels like damp sand. Because of the moisture content, it will not feed through gravity spreaders like those that will spread seed and fertilizer. It must be applied with specialized belt-fed or drop spreaders.
Article: How Fast Does Lime Affect pH?